There are various levels for CoinEx VIP members and depending on your VIP level, you will enjoy different fees discount.
How to view VIP level?
Visit CoinEx official website (https://www.coinex.com), and log in to your account. Click [Account] in the upper right corner, then you can view the current VIP level.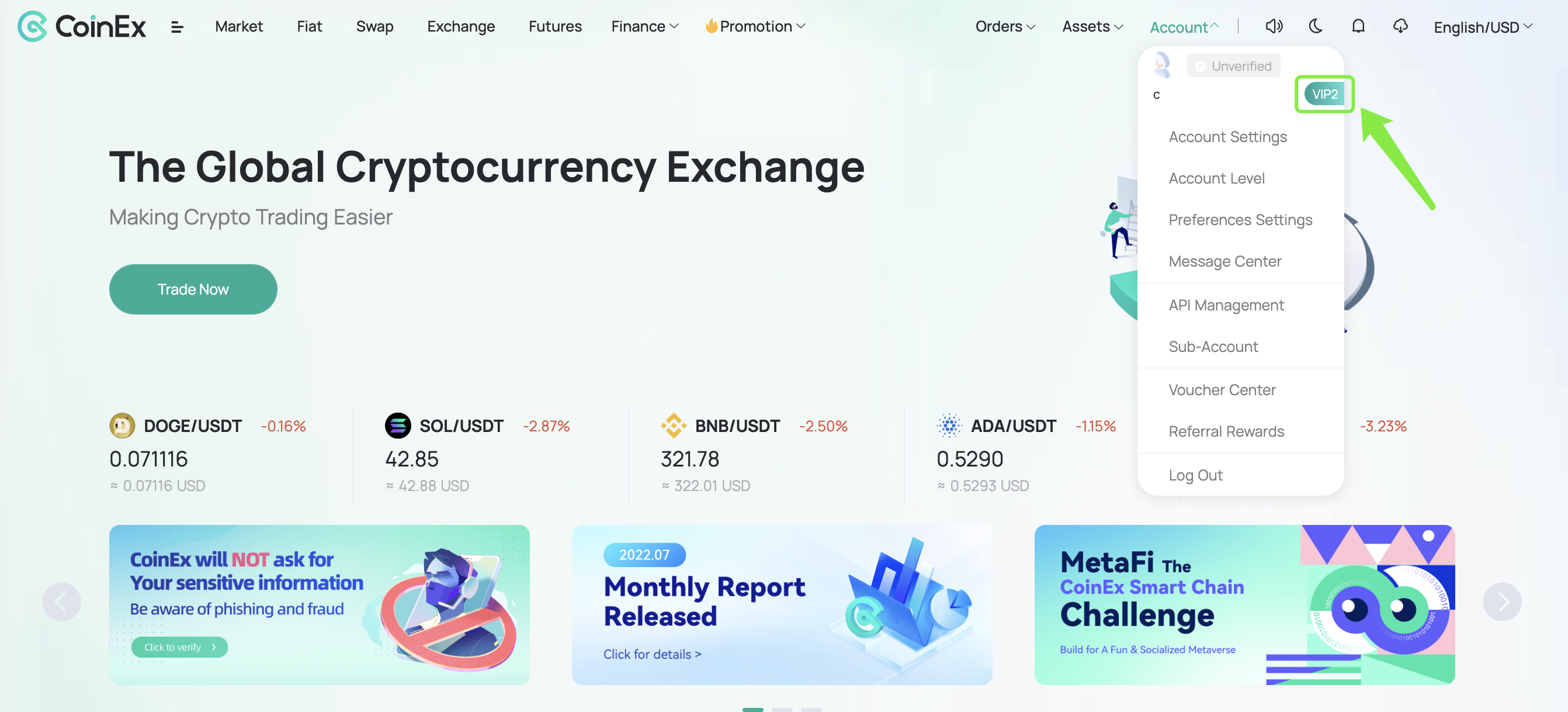 VIP Level Introduction
1. You can update VIP Level when your CET holding meets the requirements.
2. Based on the snapshot result, the CET holding (including holdings at off-site addresses that are bound to CoinEx) will be taken at 0:00 (UTC), while all VIP Levels will be updated at 1:00 (UTC) on a daily basis. The data of all sub-accounts will be added to their main accounts.
VIP Fees
VIP Level
CET Holding
Spot Fees
Spot Fees (CET Deduction)

Margin Borrowing Interest

Perpetual Fees

VIP0

≥ 0 CET

0.2000%

0.1600%

Maker:0.0300%

Taker:0.0500%

VIP1

≥1,000 CET

0.1800%

0.1440%

Maker:0.0280%

Taker:0.0480%

VIP2

≥ 10,000 CET

0.1600%

0.1280%

Maker:0.0260%

Taker:0.0460%

VIP3

≥ 100,000 CET

0.1400%

0.1120%

Maker:0.0240%

Taker:0.0440%

VIP4

≥ 500,000 CET

0.1200%

0.0960%

Maker:0.0220%

Taker:0.0420%

VIP5

≥ 1,000,000 CET

0.1000%

0.0800%

Maker:0.0200%

Taker:0.0400%
Notes:
1. VIP fees discount is applicable on top of CET deduction.
2. AMM market adopts an independent fee system. Special fees are NOT applicable for VIP. Normal AMM market fee rate is 0.3%. Stablecoin AMM market fee rate is 0.1%. Please refer to "Fees" for more details.
3. After the VIP is activated, the discounts will be automatically calculated and applied to your orders.
4. For Maker/Taker trading mechanism, please refer to What are Maker & Taker.
FAQ
Q1: Is VIP fees discount applicable on top of discount using CET as fees? If so, what coin will be charged as fees?
A1: Yes. VIP fees discount is applicable on top of discount using CET as fees for Non-AMM trading pairs in Spot Trading and Margin Trading. "Use CET as Fees" is not available for Futures Contracts.
Q2: Assuming that an account is VIP 2 and "Use CET as Fees" is activated, how should the spot fees be calculated?
A2: (1) Assuming that in spot trading, the executed value of a limit order is 10 USDT, and it is known that the spot fees rate of VIP 2 is 0.1600%, then for VIP 2 the fee will be:
10 * 0.0016 = 0.016 USDT
(2) On top of the discount of using CET as fees (currently a 20% discount), if 1 USDT = 2 CET according to the real-time exchange rate, the final transaction fee will be:
0.016 * 80% * 2 = 0.0256 CET