How to Access Preferences Settings
Visit CoinEx official website (https://www.coinex.com), log in to your account, and select [Preferences Settings] under [Account] in the top-right corner.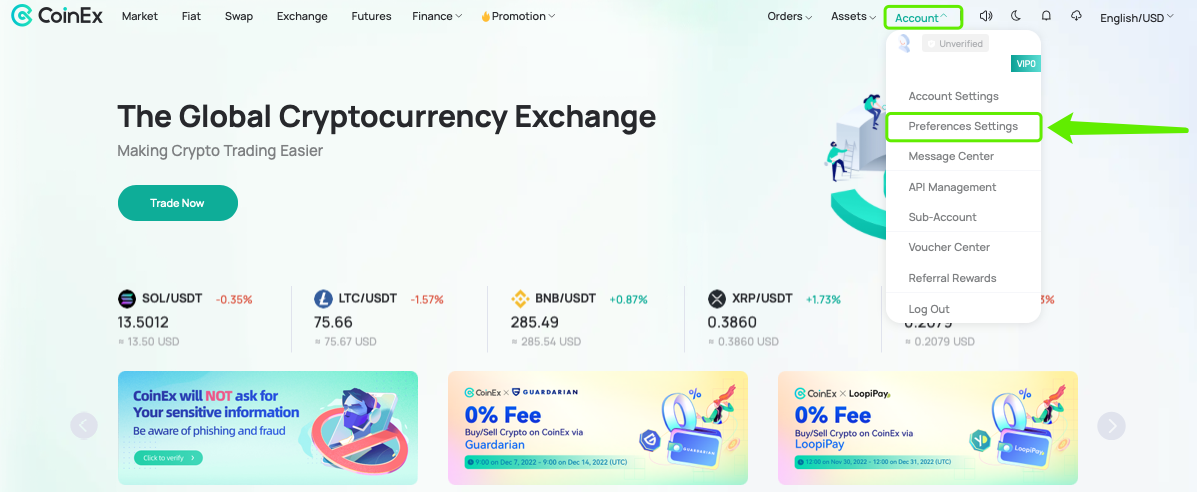 Introduction to Preferences Settings Page

1. Order Reminder
Once enabled, a window will pop up for double-checking the details every time you place an order.
2. Use CET as Fees
Once enabled, CET will be deducted as trading fees with 20% off per transaction. (AMM and Futures markets are excluded).
3. Currency
Choose the pricing fiat currency of your assets according to personal preference.
4. Language
Choose the language according to personal preference.
5. Dark Mode
Once enabled, the background color of CoinEx website will turn dark.
6. E-mail Subscriptions
You can activate email notifications for [Listing Announcements], [Latest Promotions], and [Blog] according to personal preference. Once enabled, you will receive corresponding email notifications from CoinEx.
Related Articles
How to Switch Language and Pricing Currency