What is API ?
API (Application Programming Interface) is a set of functions and procedures allowing the creation of applications that access the features or data of an operating system, application, or other service. Simply saying, it is a simple and powerful development tool designed to help users quickly and efficiently integrate CoinEx trading functions into their applications.
What can I use it for?
After creating an account on the CoinEx website, developers can create API with different using permissions according to their own needs, and use the API to trade or withdraw automatically. Through the connection between API and exchange, it can realize the automatic trading of digital currency and other functions according to the designed procedure. Programming and quantification are not exactly the same. You can also implement some auxiliary functions, such as obtaining market quotations and depth information on buying and selling, buying at regular intervals, setting prices and so on.

CoinEx API Using Documents:
https://github.com/coinexcom/coinex_exchange_api/wiki
How to create API?
1. Visit CoinEx website www.coinex.com, log in your account, click [API Management] from the menu of [Account] in the top-right corner.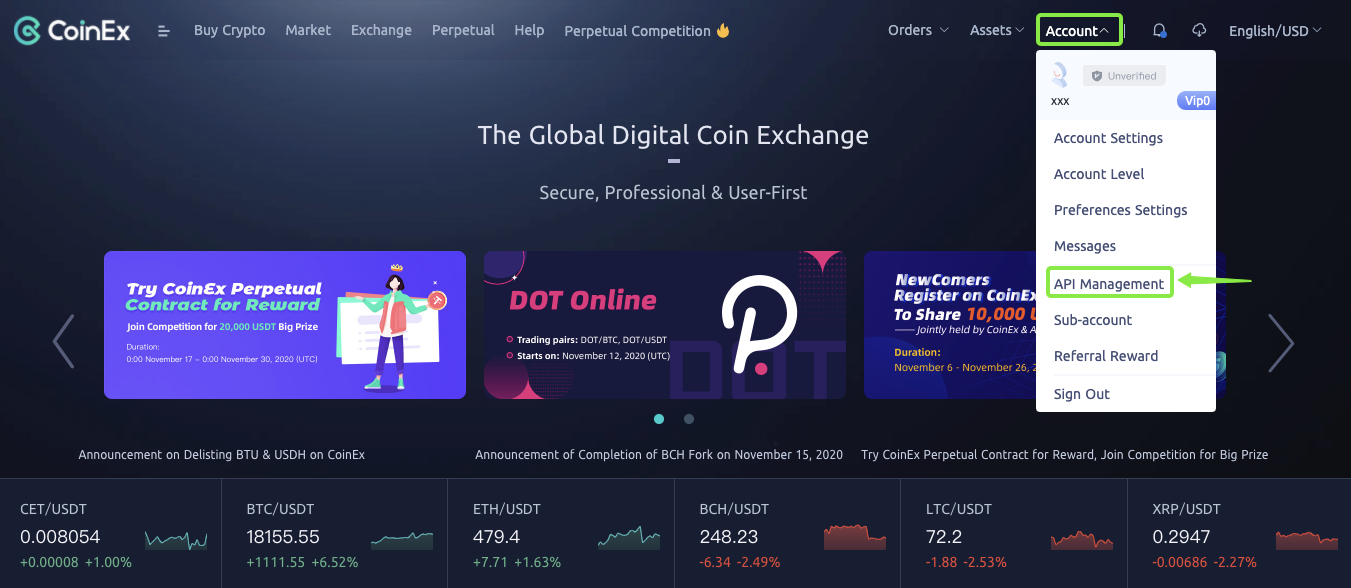 2. Click [Create API] after entering the [API Management] page.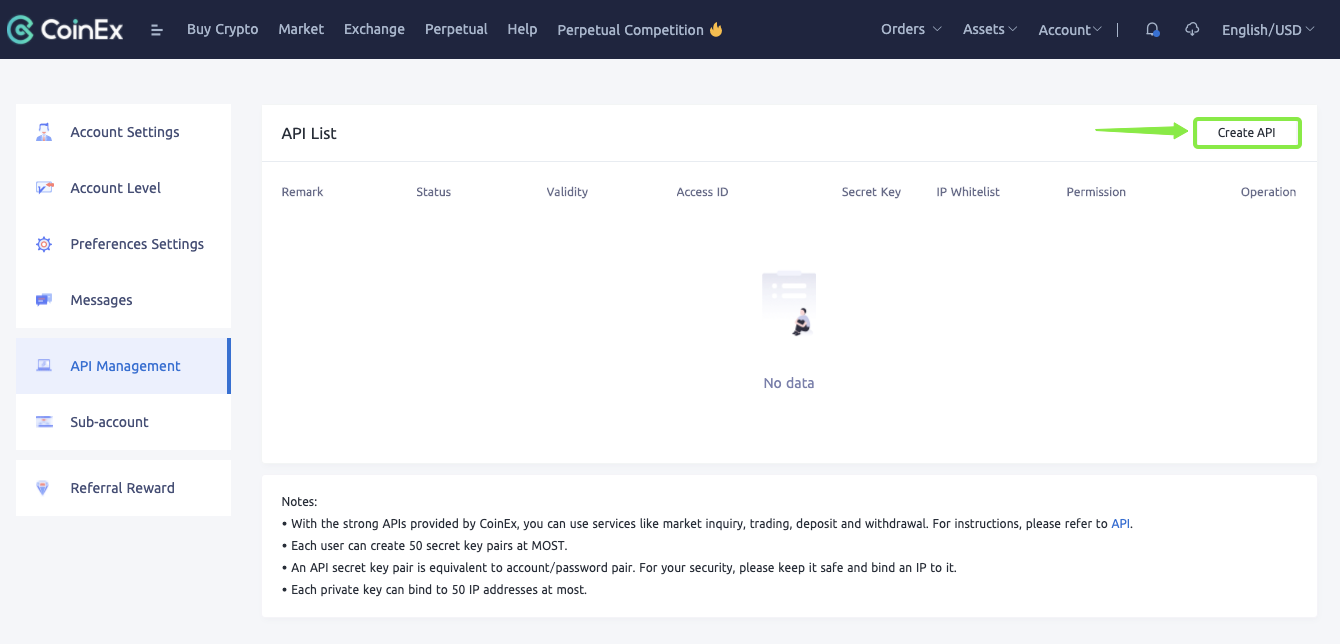 3. Set [API Remark] (ie. API name) and [Applicable IP address] accordingly, tick [withdraw] and [Trade] according to your own needs, enter SMS/GA code, and then click [Create] after confirming.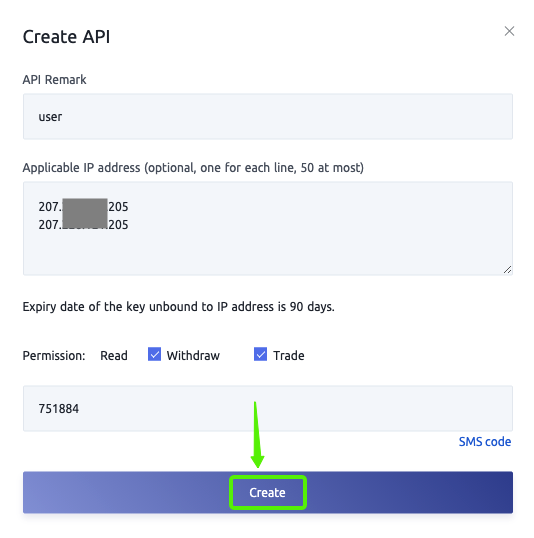 Notes:
1) When filling in the applicable IP address, please enter the IP address of "API device required";
2) When entering multiple IP addresses, you can only fill in one in a row, with a maximum of 50.

4. After creating, please keep your [Access ID] and [Secret Key] safe. And since the Secret Key only shows one time and for your account security, please do not share this page to others.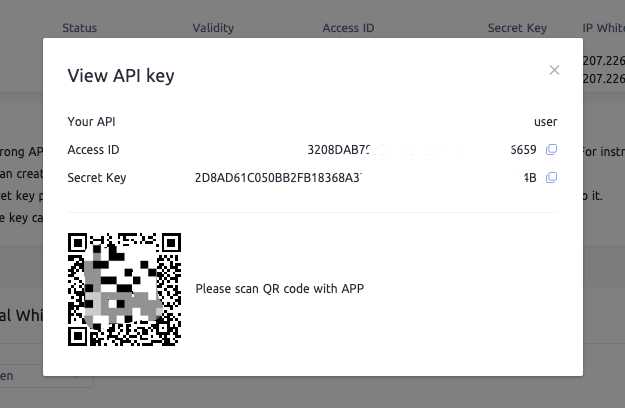 How to create whitelist address?
1. Enter the page of [API Management] page, and click [Create Whitelist Address].

2. Enter [Remark], choose [Withdrawal address] or [CoinEx address], choose [Coin] and [Protocol Type], enter the address, enter SMS/GA code, and then click [Submit] after confirming.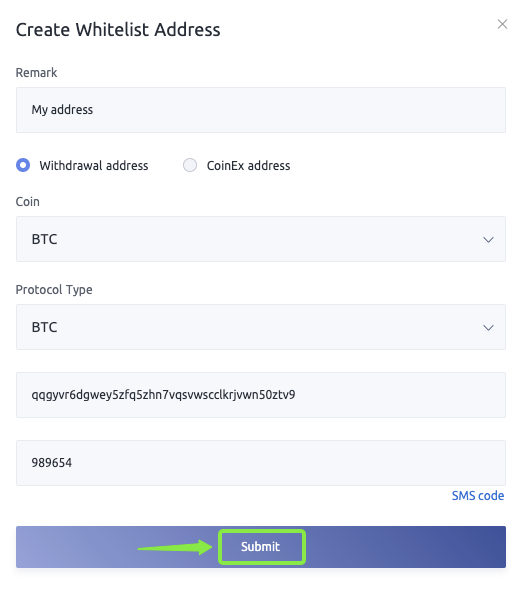 3. Get and enter the email verification code, and then click [Submit] to complete the whitelist address creating.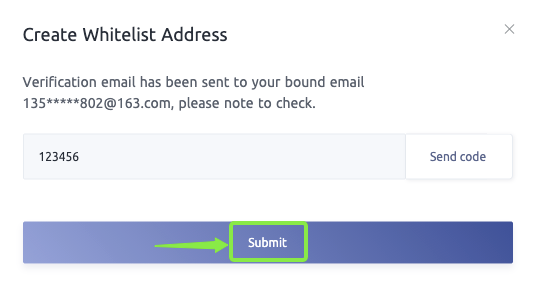 Notes:
1) With the strong APIs provided by CoinEx, you can use services like market inquiry, trading, deposit and withdrawal. For instructions, please refer to API.
2) Each user can create 50 secret key pairs at MOST.
3) An API secret key pair is equivalent to account/password pair. For your security, please keep it safe and bind an IP to it.
4)Each private key can bind to 50 IP addresses at most.
HTTP API code error description:
| | |
| --- | --- |
| Code error | Description |
| 0 | Success |
| 1 | Error |
| 2 | Parameter error |
| 25 | Signature error |
| 107 | Insufficient balance |
| 600 | Order number does not exist |
| 601 | Other user's order |
| 602 | Below min. buy/sell limit |
| 606 | Order price and the latest deviation is too large |
Request to return status code description:

| | |
| --- | --- |
| Code error | Description |
| 200 | Success |
| 404 | Page does not exist |
WebSocket API code error description:
| | |
| --- | --- |
| Code error | Description |
| 1 | Parameter error |
| 2 | Internal error |
| 3 | Service unavailable |
| 4 | Method unavailable |
| 5 | Service timeout |
| 6 | permission denied |